What Is P2P: Origins, Application, Platforms
Along with the launch of the P2P service, we are starting a new section on this blog, where we'll write about P2P. This abbreviation can be found when downloading files, sending mobile payments, and buying cryptocurrency. It stands for peer-to-peer or person-to-person, depending on the context where it is used.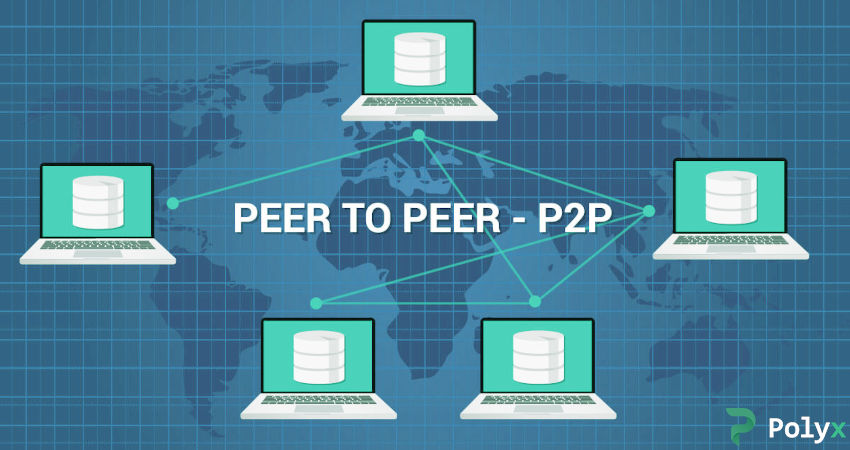 Introduction of P2P
The term appeared in 1984, when IBM created Advanced Peer-to-Peer Networking, an extension to the systems network architecture that allowed computers to communicate as equals. Then it was superseded by TCP/IP, but 15 years later the concept was revived thanks to the file-sharing networks, whose participants shared music. These networks have evolved over 3 generations:
Napster appeared in 1999. Although a centralized management was used to get lists of connected computers and MP3 files provided, the file sharing took place without the involvement of a central server.
Gnutella and eDonkey2000 appeared in 2000, and FastTrack in 2001. They were fully decentralized, so they are considered the second generation of file-sharing protocols.
BitTorrent appeared in 2001. Despite the small time gap from previous generations, it was already a network protocol with advanced features, the possibility of using different trackers and clients.
Regardless of generations, P2P networks have allowed millions of people to connect directly, join in interest groups, and share files with each other. Here, the network is organised by the client-client model, not the client-server model. The term 'client' refers to a device (usually a PC) that becomes a peer, that is, a network node. To receive and send files, the user has to run a special program on their PC, becoming an equal member of the network.
In this context, P2P means peer-to-peer, because file-sharing protocols and torrents are decentralized networks made up of peers, and one needs a client program to exchange files through them.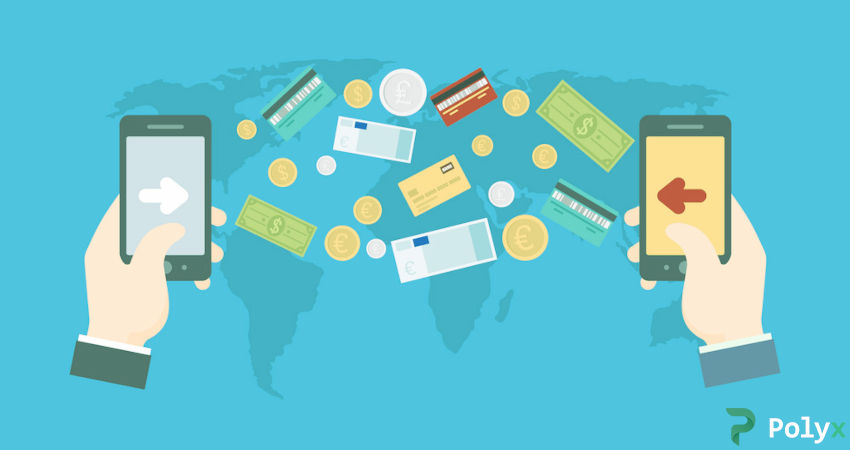 Applying P2P in fintech
In 2004, NFC technology appeared; in 2007 and 2008, iOS and Android were released, respectively. People got the opportunity to pay for purchases with their smartphones by contacting them to terminals. Banks and fintech companies were thinking about how to help customers send money to each other, not just merchants for goods or services.
In 2009, Venmo, the first service for mobile payments and transfers between users, appeared. In 2012, it was acquired by PayPal, which then introduced its mobile app for direct money transfers. In 2013, they competed with Square Cash (now called Cash App). In 2014 and 2015, Apple Pay and Android Pay broke into this segment of the market, respectively, and so things moved on. Today everyone is used to transferring money by phone number or email using a smartphone.
All of these mobile services and apps use the concept of P2P, but in this context it means person-to-person. Although smartphones are devices, they don't form a decentralized network and don't act as peers. Here, only two people interact: one sends money to the other almost directly, except that the transfer request is processed via a mobile app that connects to the central server of a fintech company or bank. This app is just a front end to communicate with the back end, not a client program to exchange something with all users.
P2P transactions with the use of peers
In October 2008, Satoshi Nakamoto invented Bitcoin and presented it in its white paper as the Peer-to-Peer Electronic Cash System. His electronic cash system is built precisely on the architecture with a lot of peers. Its functioning is supported by a decentralized network, each member of which acts as a node. All nodes, aka peers, run either official Bitcoin Core client software, and then they are considered full nodes, or unofficial SPV clients. Part of the nodes—the miners—work together to calculate and validate the transactions recorded in the blockchain. Other nodes—ordinary users—send or receive transactions and also share information about the records with all network members.
The same principle applies to any other blockchain projects, such as Ethereum, Litecoin, TRON. All of their payment systems with coins function thanks to peers, which share information about the transactions taking place within their networks.
In this context, P2P means peer-to-peer, because blockchain projects are decentralized networks made up of peer nodes, and one needs a client program to participate in them. It's almost like in file-sharing protocols, except that transactions or operations (where there is support for smart contracts and dApps) are transferred instead of files.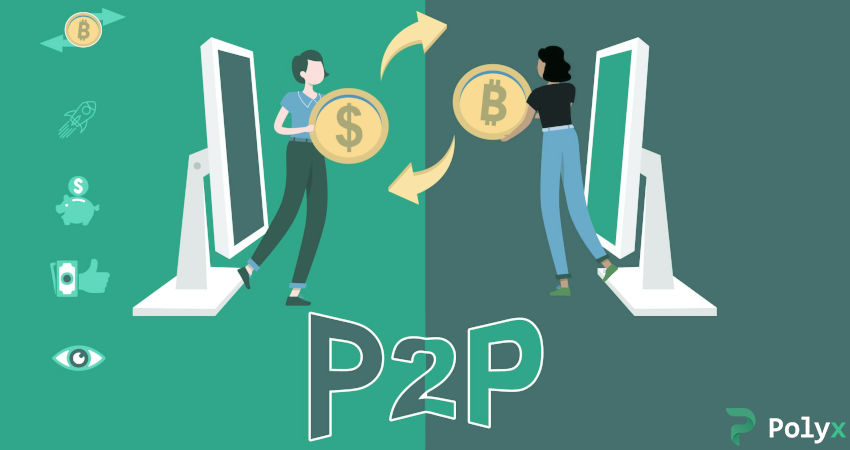 P2P platforms
With the spread of cryptocurrencies, many cryptocurrency exchanges emerged, both centralized (CEX) and decentralized (DEX). Each type offered its own advantages, but users were more likely to point out the disadvantages:
On many CEXs you can't deposit and withdraw fiat, as well as trade in cryptocurrencies paired with fiat. Where there is fiat support, KYC verification is required (this is a requirement of regulators).
On DEXs only tokens of a certain standard are traded because the exchange takes place via a blockchain that is supported by DEX. These are mostly ERC tokens based on Ethereum, which means there is no pairing with either BTC or fiat.
Both types of exchanges always take a commission for trading and for withdrawal.
At the time, most people weren't looking to earn on crypto trading. Some wanted to try to buy cryptocurrency for the first time with only fiat, while others wanted to sell the mined cryptocurrency for fiat. Many also didn't want to pass verification or pay commissions for rare deals.
LocalBitcoins began solving these issues in 2012, becoming the first P2P platform. Its users directly exchanged bitcoins for fiat currencies, while LocalBitcoins only provided them with escrow accounts, took ratings into account, and showed reviews. Then a lot of similar P2P platforms appeared.
P2P services from crypto exchanges
The increased demand for P2P exchange of cryptocurrencies for fiat currency created a new supply: CEXs began to provide embedded P2P services, not related to exchange trading. And since there are no orders, they no longer take a commission for trading. An additional simplification is that the exchange doesn't need a licence to offer deals with fiat currencies, because the fiat is transferred not through a company, but directly from user to user.
Polyx, too, has long gone beyond the scope of a crypto exchange. One of the recent services that we launched in our ecosystem was precisely P2P. Read more about P2P deals, P2P platforms, and how our Polyx P2P works here.
Whether it is a separate website or a service as part of a trading platform where P2P deals are made without an intermediary, in this context the abbreviation stands for person-to-person. Because there is no decentralized network, no devices acting as peers, no client program needed. There is only interaction between two users: one sells cryptocurrency to the second, and the latter pays for it in fiat currency via their preferred bank or payment system.