The Impact of Liquidity on the Initial Exchange Offering Success
The success of an initial exchange offering (IEO) is measured by several metrics: token price, number of community members, roadmap milestones passed, and promises fulfilled. However, the most important thing for a crypto project seeking to become sensational is to achieve liquidity. The more cryptocurrency exchanges launch your IEO, the higher the chances to let the token gain traction.
A plethora of crypto exchanges multiplies the project's prospects
Initial exchange offerings are a rapidly growing business. According to Inwara, projects raised $1.63 billion via IEOs in H1 2019. In the second half, the trend kept on growing. This is driven by major exchanges that preserve the momentum on their launchpads. For instance, Binance launches IEO every week.
The demand for IEO from investors is also growing. This is proven by Telegram groups and Bitcointalk topics where people monitor the launch of those projects that have announced their token sale via a launchpad. Potential investors are even asking those who did not plan an IEO to conduct it as soon as possible. Everyone tries to be the first to participate in a private round, or at least the first public round.
Though an IEO is beneficial to the project team and investors, it has a serious drawback — a weak drive to get listed on other exchanges. As a result, many IEOs continue to be limited to the exchange that conducted their token sale. And those few thriving IEOs whose success is expressed in terms of token price and other metrics, have become liquid just thanks to the launch via several launchpads.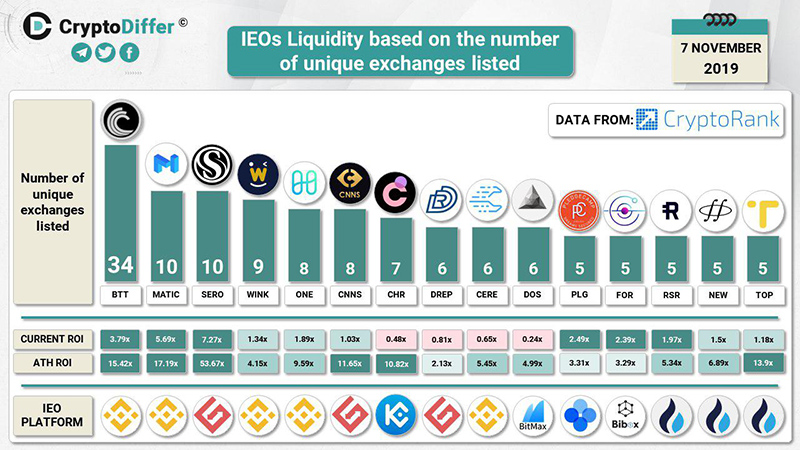 BitTorrent holds the liquidity leader ground
Launched last year, BitTorrent was one of the earliest initial exchange offerings. Today, BTT token is considered the most liquid by number of exchanges (there are 34 of them) where it is listed via IEO. It is followed by the Matic Network and Super Zero tokens, each started on 10 launchpads. This trio leads in terms of current ROI (return on investment) and ATH ROI (all-time high ROI). The relationship between the number of launchpads and the crypto project performance is obvious.
Although IEOs have shaken up crypto players this year, most projects will not achieve the same liquidity that BTT, MATIC, and SERO have gained. This said, from 65 projects launched since 1 June, over a half did not appear on any other launchpads except the first one. As a result, they faced restricted accessibility, low liquidity, and poor momentum.
In the context of listing on a plethora of crypto exchanges, their quality still prevails over the quantity. Leading projects have had successful IEOs thanks to listing on right crypto exchanges such as Polyx.