Five Areas of Business Which Accept Bitcoin in 2019
Bitcoin appeared only a decade ago, but it immediately earned considerable interest and respect in the financial sector. Investors and traders think of the main cryptocurrency as a resource for maintaining and accruing capital or as a tool for making money. Followers and users see it as a substitute for fiat money and try to use it for this purpose. These attempts are welcomed by companies, which began accepting BTC as payment for services and goods a long time ago.
Travelling with Bitcoin
The pioneers were those who help people broaden their horizons — tourism companies. The popular US travel agency CheapOair started accepting the first cryptocurrency as payment back in November 2013. Other companies took up the novel idea.
Case in point: since June 2019 it has been possible to buy plane tickets from Norwegian Air Shuttle for bitcoins. Interestingly, this airline is planning to launch its own cryptocurrency exchange.
Travellers are also using BTC to book their hotels. The largest hotel chain in Canada, Sandman Hotels, started accepting the main cryptocurrency in July 2014. A recent example: as of May 2019 you can pay with bitcoins to stay in the Swiss luxury hotel, The Dolder Grand.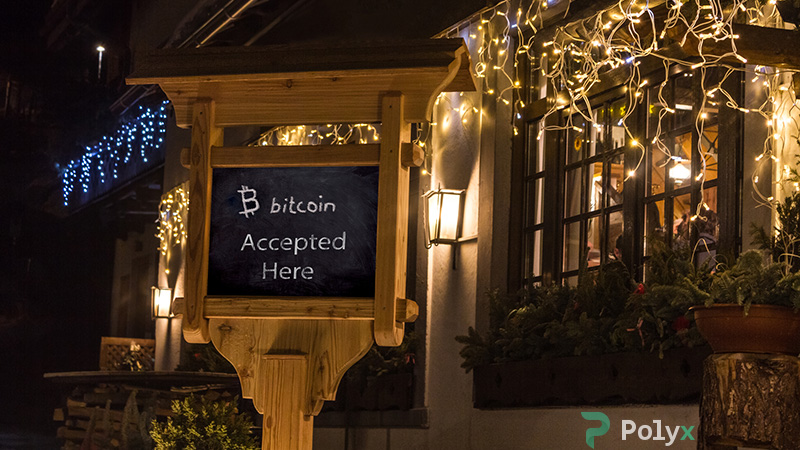 Sport and leisure
If you love mind-blowing experiences, you've probably heard of escape rooms. These rooms with puzzles, where you need to solve a riddle to leave the locked area, take advantage of demand among intellectuals, and these sharp-witted people have known about cryptocurrencies for some time. Therefore, many escape rooms are prepared to accept bitcoins for their entertainment services.
Among these clever people, there are also the literati, whose favourite pastime is learning. The Open Library of the Internet Archive, which contains a colossal amount of information, accepts donations in crypto. Of the popular cryptocurrencies you can send them Bitcoin, Bitcoin Cash, Ethereum, Ripple, and Zcash.
The introduction and use of cryptocurrencies has already been going at full speed for some time now in the most famous sport — football. In recent news:
in June, Portugal's S.L. Benfica FC began selling merchandise with the club's logo for BTC;

in October, England's Watford FC also decided to sell merchandise for BTC and added the Bitcoin logo to the players' kit.
E-commerce
The idea of Bitcoin was for it to become a convenient digital way of paying. It is logical that the first commercial companies to introduce it were online shops. The popular US online retailer Overstock has accepted bitcoins since December 2013 and is considered to be one of the first large shops to take this bold step.
Other shops immediately followed its lead. People looking to buy electronics with BTC have long been able to do so in the online computer shop, Newegg. There, it has been possible to pay for online purchases with cryptocurrency since July 2014.
Despite being the number one technological giant, Microsoft only added BTC as a payment method for digital content in December 2014. In Spring 2016, the corporation had a mishap: On 14 March, an announcement appeared on the official FAQ page saying that bitcoin would no longer be accepted. The media immediately disseminated the story, but on 15 March, representatives stated that this was a mistake and that they would not stop working with cryptocurrency.
Catering
So far, you can't pay for sushi with bitcoins everywhere, unless you live in Japan, of course. Nevertheless, many catering establishments are beginning to accept them. People can enjoy their favourite food, from pizza to burgers, and pay for it with digital coins.
On the subject of food in the context of cryptocurrencies, we cannot ignore the story of Laszlo Hanyecz from Florida, who in May 2010 paid 10,000 BTC for two large pizzas. Today, that amount of coins is worth 74.7 million dollars. Of course, at the time, Hanyecz paid another enthusiast just so that he would order him two pizzas with fiat money, but this was, nevertheless, the first time that bitcoins were spent on food.
Although most of the information about the possibility of paying with cryptocurrencies comes from fast food chains and restaurants, where food is made to take away, recently, large chains have also begun to include this option. Since May 2019, BTC has been accepted in Whole Foods Market supermarkets, owned by Amazon.
Car showrooms
Lambo (short for Lamborghini) is a term which is used in the crypto sector to describe a potential price spike. The question 'When Lambo?' is one of the most often-used in the crypto community. As it turns out, Lamborghini dealers actually noticed an increase in the number of purchases with BTC, especially during the exponential boom of 2017.
In official car showrooms, the most famous cryptocurrency can be used to acquire spectacular models from brands such as Aston Martin and Ferrari. Besides this, clients can also choose classic cars.
Furthermore, using bitcoin to buy automobiles is not limited to expensive supercars. It has been introduced as a payment method not only by the giants of the automotive industry, but also by most local dealerships which sell affordable cars.