Few Trust Facebook With Libra, but They Do Trust Instagram and WhatsApp
More than a third of Facebook users do not trust the social network as the owner of a payment system. More than half of users believe that Libra (the upcoming digital currency of the corporation) will help overcome privacy and security questions on Instagram and WhatsApp. It is proved by the data from a new study conducted by the money transfer company provider MoneyTransfers. The survey involved 2000 American Facebook users.
"People really trust Instagram and WhatsApp, which could mean a breakthrough for Facebook," said MoneyTransfers spokesman Artiom Pucinskij in an interview with Decrypt.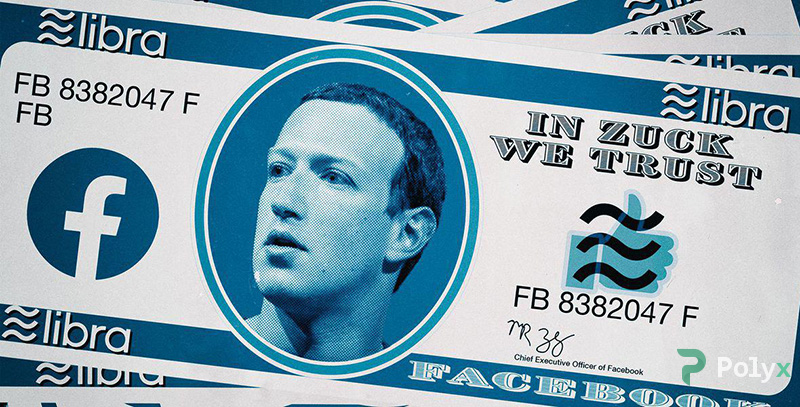 Research data
The study was focused on two issues. Firstly, it is necessary to find out the number of people who trust Facebook and its crypto project. More than a third of the survey respondents (33.75%) said they were 'unlikely' to trust their finances to Libra, and 35.4% said they were 'neutral' with respect to the project. Distrust is associated with privacy issues, technology and user experience.
Curiously, users' concerns about Facebook subsidiaries — Instagram and WhatsApp — were much lower. More than half (51%) of respondents said they "will trust other Facebook services, such as Instagram and WhatsApp, if they begin to introduce cryptocurrencies for payments."
It is worth specifying that they meant the general concept of cryptocurrencies, not specific Libra stablecoin. The very concept of 'cryptocurrency' seems to no longer scare users of social networks. On the Facebook platform, about 47% of respondents believe that cryptographic elements will make Libra more reliable.
As Pucinskij points out, "one of the main functions of Libra is integration with Instagram and WhatsApp," which makes these two products vital for the project's ongoing efforts to increase user confidence.
However, the study does not show the way regulatory issues could be solved. In June, the project faced a backlash from lawmakers and regulators around the world, many of whom see it as an attack on economic sovereignty.
Facebook users will be able to spread Libra
EToro analyst Mati Greenspan believes the use of cryptocurrency to be mainly prevalent in emerging markets. For example, recently in Hong Kong, there has been a surge of interest in Bitcoin due to ongoing protests. It is also noted that every citizen of Venezuela can better explain the importance of Bitcoin than any Wall Street trader.
At the same time, Greenspan claims that a country such as the United States 'does not yet need' Bitcoin. But Libra from Facebook has more chances to spread domestically due to the huge and loyal user base of the social network.
Mati Greenspan believes that the US government and other countries of the world do not need to apply strict laws regarding the crypto industry, as the crypto community has begun to understand the difference between various instruments (including ICOs), their risks and goals.